Pahl Livestock is a family owned and operated cattle ranch. LeRay & JoAnn along with sons Scott, Dan and their families are responsible for the daily operations of the ranch.
LeRay & JoAnn
Both LeRay and JoAnn are still very involved in the operation of the ranch but are making more time to enjoy life as they flirt with the "idea" of retirement. LeRay has just been re-elected to his sixth term on the Cypress County Council. He has put a lot of time and effort into this office and still enjoys it very much. LeRay is also involved in the Medicine Hat Exhibition & Stampede and has served on a number of community boards.
JoAnn loves the outdoors and ranch life and still enjoys feeding her 80 plus bulls every morning…although she told the boys that if it were to continue, automation would be necessary! The boys have been more than glad to comply. She has had a great deal of community involvement over the years and was honored with the Municipal District Citizen of the Year Award in 1996. Currently the yard and her grandchildren occupy the majority of her time but she wouldn't have it any other way. She is an amazing with her four grandchildren whom are constantly asking if they can go over to "Granny's house". Both "Papa" LeRay and JoAnn are a constant presence in their lives which will be invaluable to their futures.
LeRay and JoAnn have enjoyed a few trips over the past few years. Annually they attend the CFR in Edmonton, Alberta and the NFR in Vegas. They have also enjoyed a few weeks in Arizona the last couple winters and last summer spent two weeks in PEI and Nova Scotia where they attended the Canadian Hereford Conference.
Scott & Gina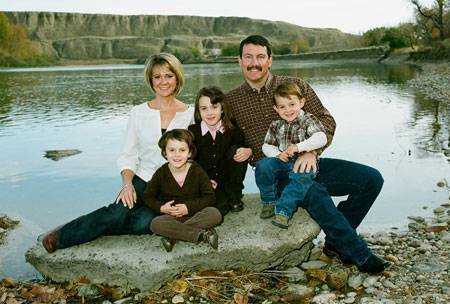 Scott & Gina are busy parents these days keeping on top of the daily demands of their three young children ages five, four & two. Keeping up with the kids' activities including play school, dance, and Timbits hockey as well as just making sure everyone is "looked-after" is pretty much a full time job for both. Although life is busy they feel incredibly blessed to have a bustling household and do their best to enjoy each and every day with them.
Parenthood at high speed has forced Scott & Gina to slow down their lifestyle a bit. For Scott that meant taking a break from his involvement with both the Alberta Hereford and Canadian Hereford Boards where he served as President of each and spent more than ten years in service. It was a time that he very much enjoyed and can see himself jumping back into when the kids are a bit older. He is currently coaching Alli's Timbits Hockey and is looking forward to getting back to recreational hockey himself, as well as becoming involved with the Medicine Hat Exhibition & Stampede. He enjoys teaching the kids about ranching and makes a point of taking the girls riding with "just Daddy" and showing Kaden "the bulls " on a regular basis.
Over a year ago Gina officially brought her career in the financial services industry to an end after working 11 years in stock brokerage. She spent a good year just handling the kids before taking on the ranch's bookkeeping responsibilities and web site duties. She has also begun a home based business with Arbonne, a Swiss based health & wellness company, that keeps her very busy.
Dan & Shauna
Dan and Shauna are early empty nesters as Madison is attending The University of Calgary. She is obtaining her Bachelor of Communications on route to a career in BS. Just kidding we couldn't be more proud of our daughter and wish her great success. Dan is busy at the ranch looking after the Angus herd with the embryo and AI programs. He is also responsible for the more practical side of the cowherd with selecting all the breeding bulls for the Angus and Commercial cattle and the herd health for the entire program. Shauna is still busy molding the young minds in her science and biology programs at McCoy High School and missing her daughter like crazy. They talk all the time and she tries to get up for a visit as often as she can. Dan and Shauna are also starting to travel with the absence of a child at home. Most of the trips are just long weekend visits to US cities to watch the Green Bay Packer games, since both are huge fans. They are also celebrating their 25th wedding anniversary this year and hope to go on our first warm weather winter holiday. Other than work things have slowed down for Dan and Shauna, so hopefully attending a few more sales and testing out a few more coffee pots around the country are in order.
Steve & Vanessa
Just Married!!... JoAnn & LeRay's youngest son Steve, married Vanessa Young on January 8th at the amazing Moon Palace in Cancun, Mexico! Joining them on their special day were, Vanessa's daughter Maloney, JoAnn, LeRay, Dan, Shauna & Madi as well as a number of other close friends& relatives. Family & friends also enjoyed a fun-filled week in the sun with Steve & Vanessa before leaving the happy couple to enjoy a second week on their own!
Currently Steve, Vanessa & Maloney live in Medicine Hat. Steve recently made a career change becoming a business manager with Scotia McLeod which he is enjoying. He also continues to take an interest in the ranch and comes out whenever an extra hand is needed.